Driver was pinned between cars in a May 2021 crash in Newington, NH An illustration shows the scene of a fatal accident involving a Pan Am Railways local in Newington, NH, in May 2021 (National
Driver was pinned between cars in a May 2021 crash in Newington, NH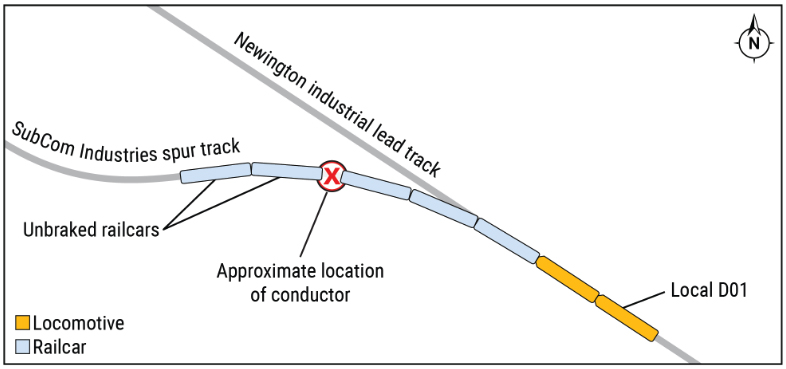 ---
WASHINGTON — Failure to follow rules prohibiting employees from moving between moving cars during coupling was the likely cause of death for a Pan Am Railways conductor, according to the National Transportation Safety Board report on the fatal accident of May 2021.
The crash in Newington, NH on the afternoon of May 19, 2021, occurred while Pan Am's local D01 was switching to the SubCom Industries facility. The conductor was caught between two couplers as he tried to add two empty cars to the local gravity coupling, in which cars with their brakes released are allowed to roll downhill to couple with the rest of the train. The first five attempts to join the two cars by gravity coupling on the curved spur track failed and resulted in a separation of approximately 5 feet between the two sets of equipment. The conductor pushed into the gap between the train and the unbraked cars on the sixth attempt and got stuck between the couplers. He was taken to a nearby hospital but later died from his injuries.
At the time, Pan Am rules allowed gravity hitching but prohibited employees from walking between equipment and required that any manual adjustment of hitches occur when cars are stationary and there are at least 50 feet of separation between equipment. Pan Am later banned gravity coupling at the SubCom facility, and the railroad and SubCom changed their operations to avoid coupling on the curved track where the accident occurred.
The NTSB had released its preliminary report on the crash in June 2021, saying the conductor had 42 years of railroad experience. [see "Digest: Ruling delays closure …," Trains News Wire, June 16, 2021].